IMPLEMENTASI LOGIKA FUZZY PADA KENDALI SISTEM PENGGERAK KAMERA 2 AXIS UNTUK MENGIKUTI OBJEK BERBENTUK BOLA
Keywords:
Robot, Objek, Logika Fuzzy, Kamera
Abstract
Robot pendeteksi dan pengikut objek tertentu merupakan salah satu penerapan dan pengembangan dari teknologi robotic vision yang saat ini sedang banyak diteliti. Teknologi  robotics vision tidak hanya bertumpu pada sensor yang mampu mengenali objek tertentu saja melainkan didukung pula oleh teknologi elektro, mekanik dan kendali sehingga fungsi robot sebagai alat yang mampu melakukan tugas secara fisik, baik yang bekerja secara autonomous ataupun dalam pengawasan manusia dapat tercapai.
Sistem penggerak kamera 2 axis ini didesain dengan metode logika fuzzy dengan beberapa tahap yang terdiri dari penentuan nilai keanggotaan untuk fuzzifikasi, proses inferensi dan defuzzifikasi untuk menghasilkan sinyal keluaran yang digunakan untuk menjalankan motor servo pada gerak 2 axis.
Dengan menerapkan metode kendali logika fuzzy pada sistem penggerak kamera 2 axis, sistem mampu mengikuti objek yang bergerak dengan kecepatan 7,34 cm/s.
References
s halim, merancang mobile robot pembawa objek menggunakan oopic-r. Jakarta: PT. Elex Komputindo, 2007.
v. kyrki and d. kragic, "computer and robot vision," ieee Robot. Autom. Mag., vol. 18, pp. 121–122, 2011.
J. Y. Mambu, A. Wahyudi, Z. Reinaldo, and T. Braif, "Robot Perekam Objek Berbasis Face Tracking," Cogito Smart J., vol. 3, 2017.
M. R. Rahimi, S. Hajighasemi, and D. Sanaei, "Designing and Simulation for Vertical Moving Control of UAV System using PID , LQR and Fuzzy logic," IJECE, vol. 3, 2013.
N. yulita D. Setyaningsih and A. catur Murti, "Control Temperature on Plant Baby Incubator With Fuzzy Logic," J. SIMETRIS, vol. 7, 2016.
S. Kusumadewi, Analisis Desain Sistem Fuzzy Menggunakan Tool Box Matlab. Jogjakarta: Graha Ilmu, 2002.
M. Namazov, "dc motor position control using fuzzy proportional-derivative controllers with different defuzzification methods," turkish j. fuzzy syst, vol. 1, pp. 36–54, 2010.
Y. B. And and D. Wang, "Fundamentals of Fuzzy Logic Control – Fuzzy Sets , Fuzzy Rules and Defuzzifications," 1982.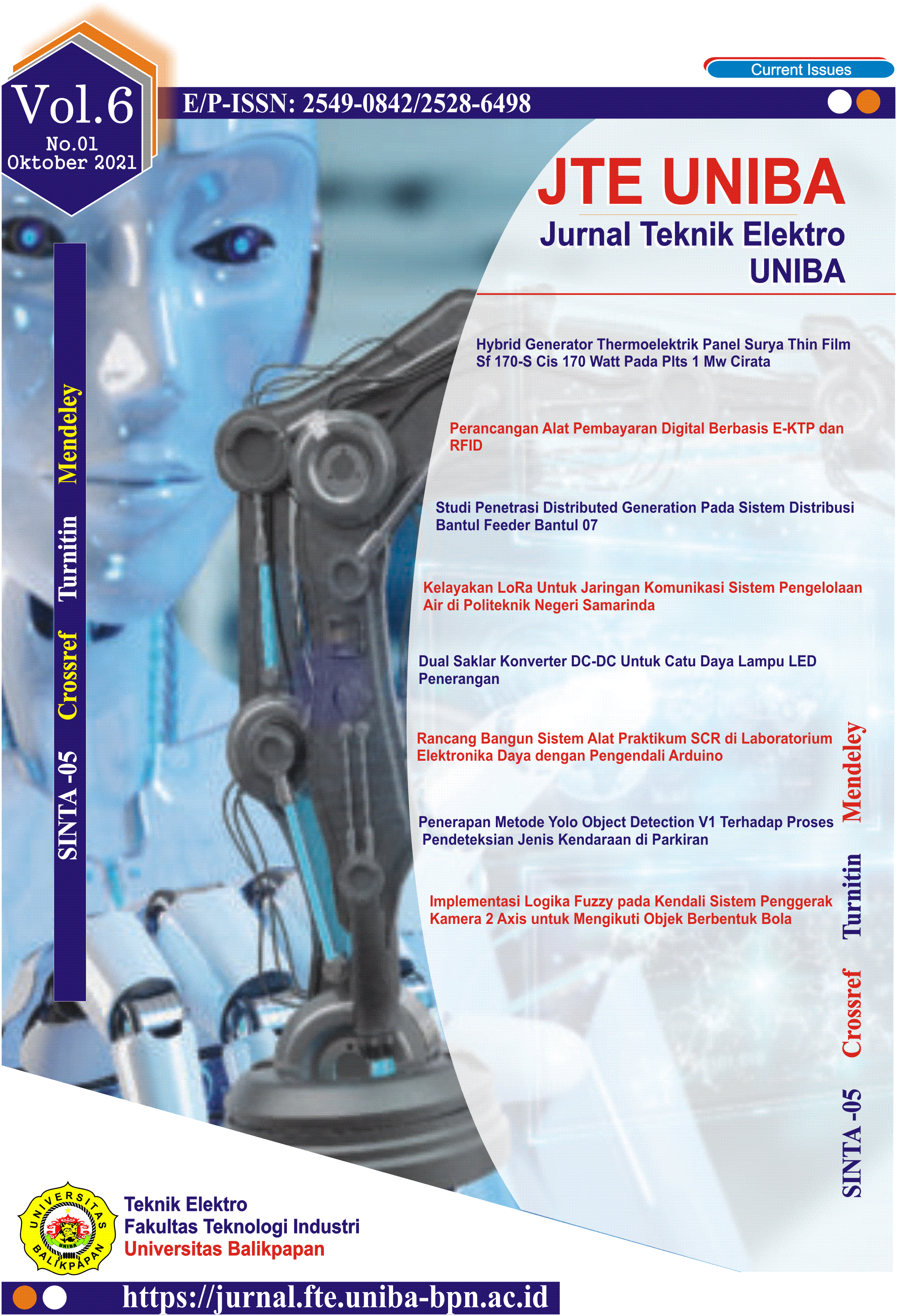 Downloads
License
Copyright (c) 2021 budi cahyo wibowo, Noor Yulita Dwi Setyaningsih
This work is licensed under a Creative Commons Attribution 4.0 International License.